Do not expect a normal vacation if you are reading this text, be prepared to escape reality.
You should forget all the stereotypical expectations you have about traveling around the Greek islands, we offer a different kind of trip. In this corner of the world we are a community of children that never grew up & somehow all of us are in sync when the sun goes down.
FarOut Beach Club is a playground at the corner of one of the most magnificent beaches of cyclades Mylopotas Beach, you have the chance to eat, sleep rave & repeat with people from all over the world who's only aim is to escape reality on a day to day basis.
As you navigate through our website you will get a small taste of each opportunity you & your friends will have to escape reality with main focus our international DJ raves that start in the middle of the day. Accommodation options for every budget, food & drinks specially prepared to cure your hangover with the most important factor you & our community that welcomes everybody.
If you hesitate to book you might lose your chance this summer due to massive  demand. Do not miss the opportunity to be part of our summer & live an experience out of this planet.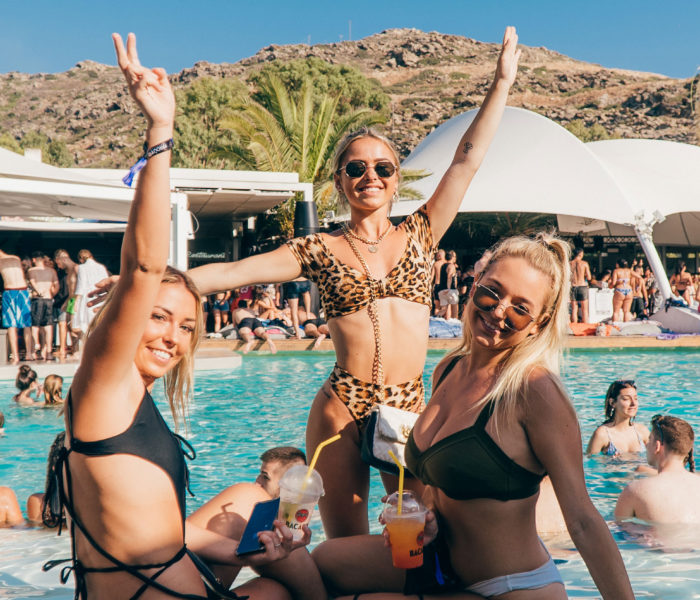 Far Out Experience
As a FarOut Resident you will become part of the biggest raver community on the island. Most likely you have been referred to our beach club by a friend who has experienced this (if you are here by mistake you are very lucky). But what you will explore is more than a beach club, it is a resort that includes every aspect of living in a young ravers modern day paradise. Festival vibes, food, drinks, music, gym, beach, pool, laundry and more!
Why so cheap, is there a hidden cost ?
No there is absolutely no hidden cost, we have listed exactly what you get with that final price and includes what the package you choose is offering.
Does price change during high season ?
NO!! Believe it or not you can stay at our resort during the high season & pay that extremely low price. All the packages are available until June 1st, the camping area fills up very quickly due to the plethora of backpacking travelers.
How do I get from Ios port to FarOut Beach Club ?
A FarOut representative will be at the port holding a FarOut sign, you must follow that sing to our shuttle bus that will transfer you for free at the club. Read more at GET HERE section
About the meals, what is included ?
We cover a sandwich for breakfast & 2 meals per day, lunch and dinner.
(1 meal = 1 entree + bread + soft drink) (1 sandwich = your choice of bread + 3 ingredients)
ATTENTION: The days we have a ticketed event you have to enter before 17:30 no exceptions.
Upon checking in you will receive coupon tickets for your daily meals to be presented at the cashier inside our self service restaurant. The tickets are non-refundable and non-transferable.
What if I am interested to stay extra days ?
Yes you can extend your stay as many days as you want. If you wish to stay an extra day the cost is written on your package details.
What about the discounted daiquiri, you probably mean the first one?
No you can drink as many frozen daiquiri you please at the same discounted price when you present the FarOut Resident wristband.
How do I get my ferry tickets ?
We will send you an email with a confirmation code that can be redeemed at any the port. This confirmation number will include both your tickets of arrival and departure & should be printer before embarking at the ferry boat. If you have problems please communicate with our travel agent.